Description
Three station multi functions bus bar making machine Specifications
| MODEL | UNIT | AKS-3S-300 | AKS-3S-500 |
| --- | --- | --- | --- |
| PUNCHING MAX. THICKNESS | MM | 12 | 16 |
| PUNCHING HOLE DIAMETER | MM | Φ4-Φ25 | Φ4.3-Φ35 |
| PUNCHING MAX. WIDTH | MM | 150 | 250 |
| FORCE POWER | KN | 300 | 500 |
| SHEARING MAX. THICKNESS | MM | 12 | 16 |
| SHEARING MAX. WIDTH | MM | 150 | 250 |
| HONRIZENTAL BENDING FORCE | KN | 300 | 500 |
| HONRIZENTAL BENDING THICKNESS | MM | 12 | 16 |
| HONRIZENTAL BENDING WIDTH | MM | 150 | 250 |
| VERTICAL BENDING MAX. WIDTH | MM | 100(THICK 10MM) | 120(THICK 10MM) |
| VERTICAL BENDING MIN. ANGLE | DEGREE | 90 | 90 |
| BENDING PRECISION | DEGREE | ±0.5-1 | ±0.5-1 |
| MAIN MOTOR | KW | 3*4KW | 3*5.5KW |
| DIMENSIONS | CM | 150*130*120 | 180*150*130 |
| WEIGHT | TON | 1.3 | 1.8 |
Three station multi functions bus bar making machine Applications and Features
Application:Be used to produce Busbars in a variety of shapes, such as flat strips, solid bars, or rods, and are typically composed of copper, brass, or aluminium as solid or hollow tubes.Copper/aluminum busbar In electric power distribution, a busbar (also bus bar) is a metallic strip or bar, typically housed inside switchgear, panel boards, and busway enclosures for local high current power distribution. They are also used to connect high voltage equipment at electrical switchyards, and low voltage equipment in battery banks. They are generally uninsulated, and have sufficient stiffness to be supported in air by insulated pillars. These features allow sufficient cooling of the conductors, and the ability to tap in at various points without creating a new joint.
Features:
1.Turret design punch unit With functions of shape forming,hole punching,shearing,chamfering,slotting and knurling.etc.Turret double table bus processing machine design available.
2.The cutting unit adopts general file-type cutting, the cut is flat, no sags, no burrs, beautiful appearance, and no waste is cut.
3.The punching unit adopts a toothed six-mode integrated turntable, which ensures the absolute alignment of the upper and lower dies, improves the concentricity of the mold and extends the service life of the mold. The turntable adopts a toothed structure with good sight and high strength. Workers do not need to change molds frequently, labor intensity is greatly reduced, it is more convenient and quick to use, and production efficiency is significantly higher than traditional punching units.
4.The bending unit adopts an independent workbench, and the three processing units work simultaneously without affecting each other. The flat and vertical bending can be completed by changing the mold. Bending angle is numerically controlled and imported by PLC control. The thickness and angle of the copper bar can be input directly on the NC touch screen, and the height and side length can also be directly processed into the required workpiece (such as Z-bend). The bending accuracy is ± 1 °. The user can input the processing data in advance, and the system calls out the data for processing according to the input information: the processed workpiece field data can be stored in the system at any time and recalled for reuse.
5.Touch screen: human-machine interface, simple operation, real-time reflection of program running status, with display device operation alarm information function, can easily set mold parameters and operate equipment operation.
6.The machine is equipped with four casters, which can be easily moved to the required place. There are two operation modes: manual button and foot switch. The operation is simple and the worker can use it easily. According to user requirements, different molds or fixtures can be configured to complete the user's special shape processing.
Three station multi functions bus bar making machine Structure and Components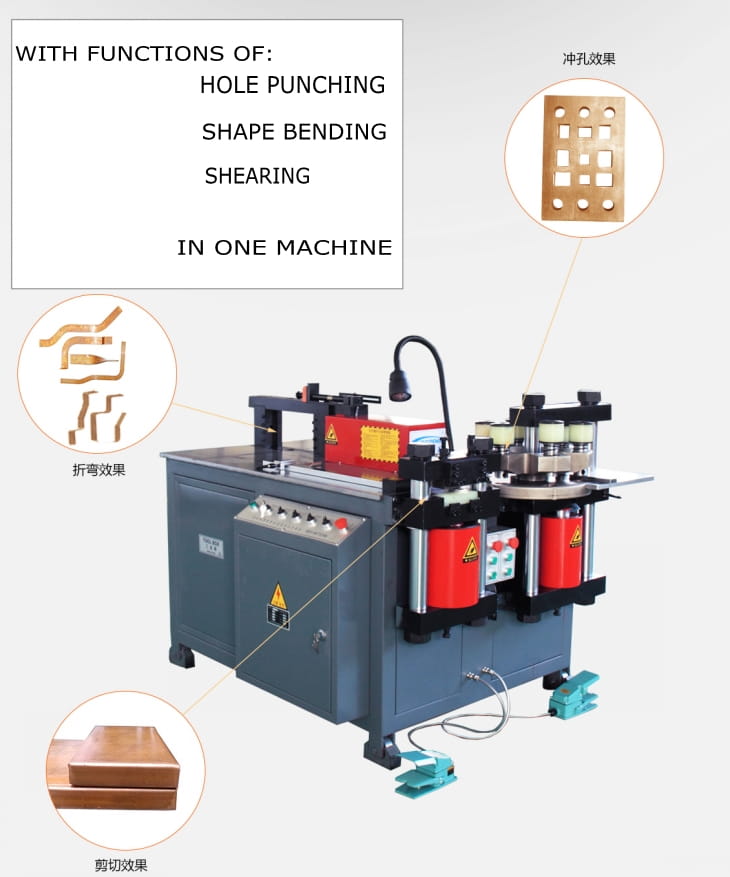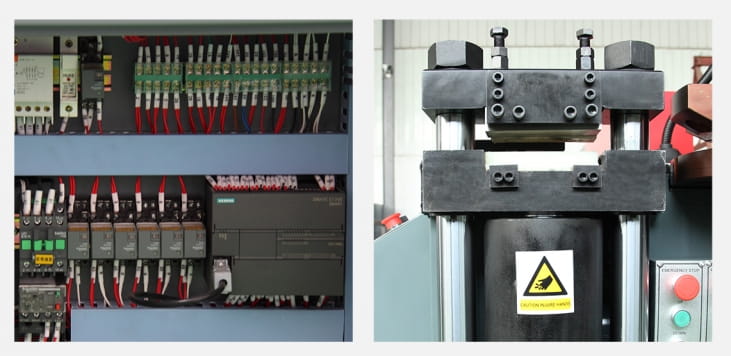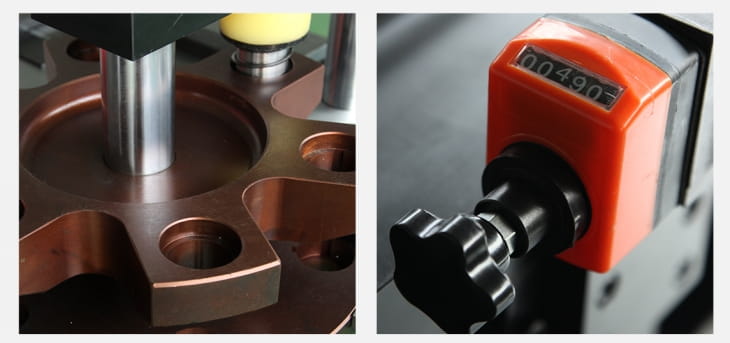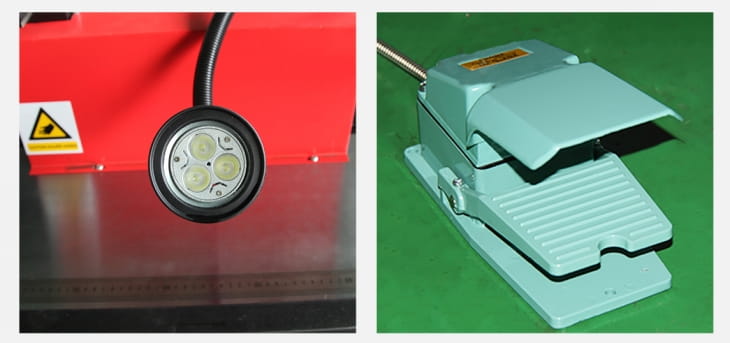 Three station multi functions bus bar making machine Produced Busbar Samples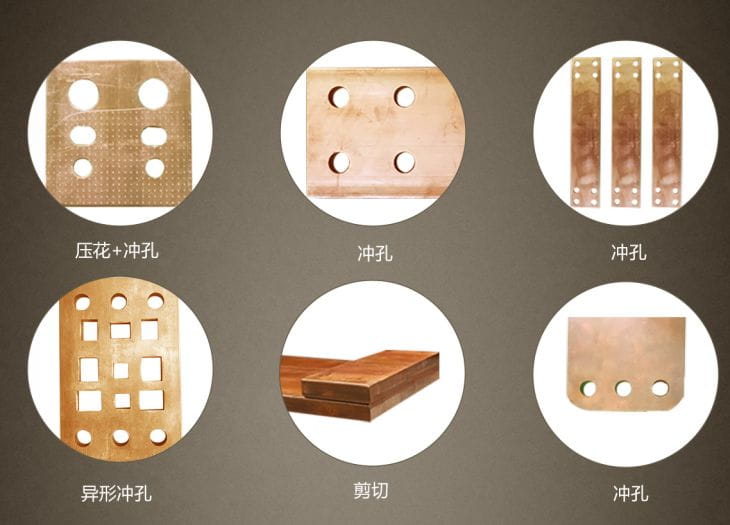 1.Sheared bus bar plate 2.Standing bend and twisted bus bar 3.Holes punched bus bar 4.U shape bending bus bar 5.Holes punched and knurling pressed bus bar 6.8.Punch and bend combination bus bar 7.Twisted bus bar